Well, I think it's fair to say that this is a slightly different post to my usual ones. Yesterday myself and
Zara
got the chance to meet the talented duo of Sam and Nic from Pixiwoo while on their RealTechniques Roadshow. I'm sure you all know Pixiwoo from their fabulous Youtube videos and make-up tutorials.
Speaking as someone whose never been the "fan-girl" type nor have I ever met anyone remotely famous before,( besides Fair City actors, if that counts) let alone an actual meet & greet, I thought I would be calm and chilled for most of it and not get too overwhelmed. However..when you actually meet them, it kind of gets a bit surreal. All of a sudden your in front of these people you've watched on a screen for so long and queued and planned this day and next of all, they're there. You have a minute or two to ask and say whatever you wanted to say to them but of coarse your brain doesn't work like that. Your completely mesmerized by them( and Nic's fabulous two pairs of lashes!) and I know some of you are reading this thinking, oh come on it's not like you've meet President Obama or like Brad Pitt, you're just being dramatic-and I am- but in the moment you really are lost for words.
As someone who watches Youtubers and beauty guru's, I've never been someone to leave nasty comments or gossip online about them, to be honest I don't care enough. If I don't like their video, I'll just leave it and stop watching but that's not to say I don't see the gossiping others do, that in my opinion no matter what their argument, it always boils down to jealousy. Which is why I would whole heartedly recommend seeing even one of your favourite Youtubers at some stage because you definetely see them in a different light. These days trolls are popping up all over the internet and leaving nasty comments everywhere. Meeting these people you watch from a screen, I think, reinforces the fact that they are just humans too. When you watch them from a screen as they sit there with nothing but there head and shoulders on show and a white background, it's easy to judge, we all to it, unknowns to yourself- you're examining them. Meeting these fabulous ladies made me realise that Youtubers are basically ordinary Joe's like ourselves.
Sam and Nic were so welcoming and down to earth, despite they're fame. They gave us a hug , asked us our names and complimented us before getting in a photo and thanking us for coming out! I didn't expect them to be righteous or mean in any way-which they weren't- but at the same time I didn't expect them to be so down to earth either! They were just fabulous really.
Now, onto the outfit! This little number is a recent purchase. The dress I got in the Topshop sale for an absolute steal-10 euro reduced from 56! I don't think I've ever seen such a bargain! Thankfully we got these photo's done before the rain hit.It was a bit chilly hence why I didn't take my jacket off, but the top half of the dress is high neck and scoops down quite a bit at the sides. I'm terrible at descriptions but I'm sure it will feature again anyway!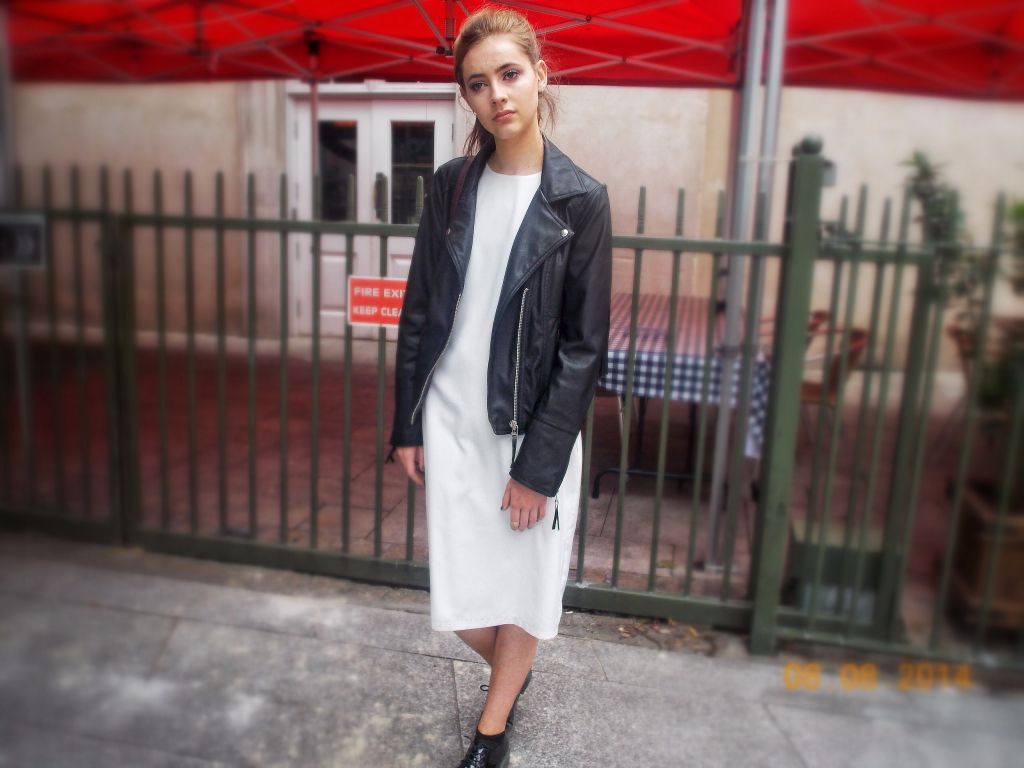 Dress- Topshop //Jacket- River Island //Shoes- New Look //Bag- Primark
The whole experience was fantastic and we and a brilliant day out! Have you had the pleasure of meeting Sam & Nic?
x